13Nov2009
Speedball – Maximum Speed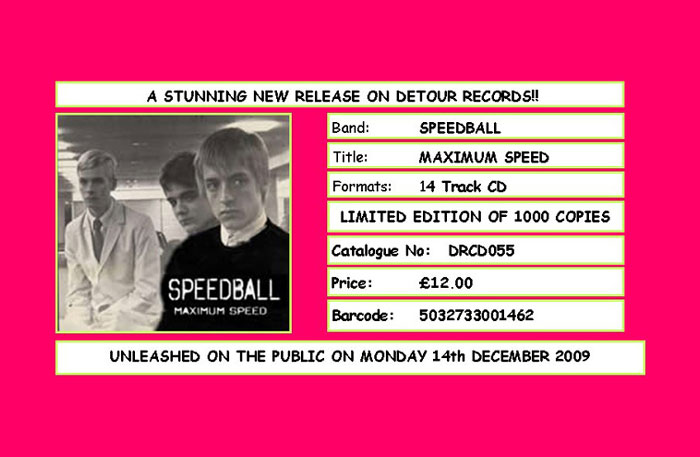 ---
---
That's right..Guy's first band has a live album coming out!
What can we say about Speedball that hasn't been said before?
One of the few Mod bands that haven't had the "DETOUR" treat­ment…
Finally we are proud to announce a full length CD release from Southend's finest MOD band.
Starting off life as "IDIOT", but after a false start the band re-​​grouped from a four piece down to a three piece and started playing all the local haunts. Then after a few choice gigs, London beck­oned! The band realised they had found their audi­ence and built up a loyal fol­lowing of up and coming parka clad fans from the newly formed Mod phe­nom­enon that was sweeping the country… From 1979 to 1981 the band played their hearts out to packed venues.
In this period, the band released one cult status single on local ' No Pap' label which has now become quite a col­lec­table single. Sadly the band imploded in 1981, Rob the main song writer ended up emi­grating to dow­nunder, Dave the drummer sadly died a few years ago from cancer and Guy, as we know, has been playing with Pink Floyd for the last 15 years.
This bril­liant and over due release fea­tures both sides of the single, unre­leased studio tracks and choice live tracks.
No Survivors
Don't You Know Love By Now
60's Girl
Is Somebody There?
Billy Gets What Billy Wants
Please Don't Stare
Boys And Girls
Billy Gets What Billy Wants (live)
First Time (live)
Test Tube Baby (live)
Running Blind (live)
Look What I Did Today (live)
Don't You Know That (live)
Round And Around (live)
Unleashed on the public on Monday, 14th December, on lim­ited edi­tion of 1000 copies avail­able exclu­sively through:
Detour Records Distribution
PO Box 18, Midhurst West Sussex, GU29 9YU, England
Tel/​Fax: 01730 815422
Email: dizzydetour@​btinternet.​com